100% of diary ingredients are goat's milk based
There are no chemicals, artificial flavors, preservatives, colors, or GMO
Made from chemical-free agriculture and manufacturing
Gluten free, palm oil free, fish oil free
Contains DHA
600g formula powder which made 150 fl oz of formula
This is Goat's milk based infant formula for babies  0-6 months and is an Organic product

Use: as formula-only diet and/or to complement breastfeeding.
Contains Plant source DHA and is Fish oil free. Its great because 100% of diary ingredients are goat's milk based
Good to know: It is Palm oil free and Gluten free!
Ingredients

Powdered goat's whole MILK* (38%), maltodextrin*, vegetable oil* (sunflower*, coconut*, rapeseed*, goat's MILK LACTOSE*, oil extracted from microalgae Schizochytrium sp., choline, inositol, L-carnitine. Minerals: calcium carbonate, magnesium oxide, iron lactate, zinc sulphate, copper sulphate, manganese suphate, sodium chloride, sodium selenite, potassium iodide. Vitamins: A (retinol acetate), D3 (cholecalciferol), E (a-tocopherol), K1 (phylloquinone), B1 (thiamine hydrochloride), B2 (riboflavin), C (sodium ascorbate), 83 (niacin), B6 (pyridoxine), B12 (cobalamin), 85 (calcium pantothenate), B8 (biotin), 89 (folic acid).

*100% of agricultural ingredients are cultivated according to organic farming methods

Nutritional facts per 100 g / 100 ml:
Energy:
2117 kJ - 505 kcal / 275 kJ - 66 kcal
Saturated fatty acids:
13 g / 1.7 g
Monounsaturated fatty acids:
9.3 g / 1.2 g
Polyunsaturated fatty acids:
3.4 g / 0.44 g
Linoleic acid (Omega-6):
3.10g / 0.40g
α - Linoleic acid (Omega-3):
0.37g / 0.05g
Carbohydrates:
61 g / 7.9 g
Vitamin D3:
13 µg / 1.6 µg
Vitamin K1:
43 µg / 5.7 µg
Vitamin C:
81.3 mg / 10.6 mg
Vitamin B1:
622 mcg / 81.0 mcg
Vitamin B2:
1250 µg / 162 µg
ACA Niacin:
5572 µg / 724 µg
Vitamin B6:
394 µg / 51 µg
Vitamin B12:
1.40 µg / 0.18 µg
Pantothenic acid:
5.2 mg / 0.67 mg
L-Carnitin:
8.2 mg / 1.1 mg
Phosphorus:
375 mg / 49 mg
Amount drunk per bottle can vary individually. Recommended drinking amount and number of bottles per day are general guidelines only. Your baby does not have to drink the bottle completely. Please use the supplied measuring spoon only!
Track and Trace

Track and Trace:

Once you place your order, a Track and Trace link will be supplied allowing you to manage and see exactly where you delivery is while it makes its way to your doorstep!
Preparation Instructions

Preparation:

Instructions in English

Follow the instructions precisely when preparing toddler formula. Improper preparation or storage of the prepared bottle over a longer period of time can lead to health problems, e.g. due to the growth of unwanted germs. Prepare formula before every feeding and feed immediately. Do not reuse the remaining prepared formula or leftovers. Clean bottle, teat and ring thoroughly. Close the opened bag tightly after use. Store dry and at room temperature and use within 2 weeks after opening. Do not heat organic baby food in the microwave (risk of scalding).

For a thorough cleaning boil the bottle and ring before using it, from 3 to 5 minutes.
Boil fresh drinking water and cool to approx. 40°-50° C / 104-122° F. Add half of the required water to the bottle.
Fill the measuring spoon and level the formula powder on the spoon. Add the advised amount of formula to the bottle.
Close the bottle and shake thoroughly. Add the remaining water and shake thoroughly again. Cool to drinking temperature of approx. 37° C / 98.6° F. Check temperature, e.g. with thermometer.

Preparation notes

Please follow the preparation instructions exactly. Dosing in the correct quantities will ensure your baby always receives the nutrients he or she needs.
Only use the provided measuring spoon.
Do not change proportions of formula powder except with explicit medical advice. Incorrect preparation and storage may result in damage to health.
Always prepare bottles fresh. Do not re-use leftovers.
Do not heat organic baby food in the microwave (danger of overheating)

Important notes

A mother's milk is the most natural and beneficial nourishment for your baby – including all nutrients and vitamins needed. This is why we recommend breastfeeding. Holle pre cow milk formulas are suitable from birth to 6 months and ideal for bottle feeding or as the supplement to breast milk. Before you decide to use this product, consult your doctor or healthcare professional for advice.

Do not allow your baby to suck on its bottle continuously. Constant contact with liquids containing carbohydrates can lead to tooth decay. Therefore pay attention from the first tooth to adequate dental care. Pay special attention to your baby's dental hygiene once his or her first tooth has come through.
Share
View full details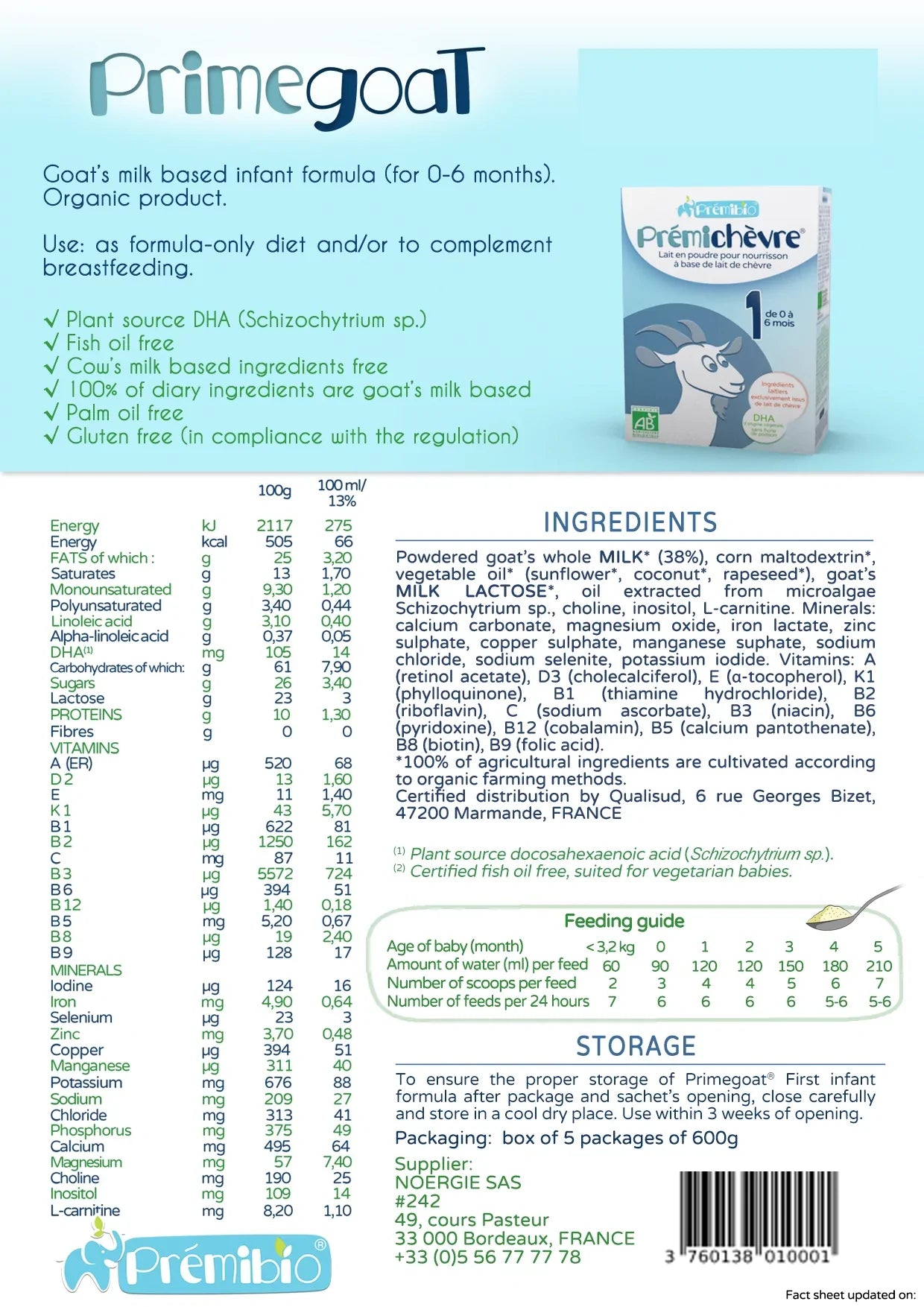 Satisfied!
Great consistency creamy but not too thick my little guy is pleased! Thanks Nicole for your recommendations :)
So Creamy!
This was my first time
Purchasing Premibio and it won't be my last! So far 3 weeks in and my LO is having no digestive problems! Thanks Baby Mercato so helpful and quick to respond to my email 💕