HiPP Dutch Goat Milk Baby formula Stage 2 is a premium-quality organic baby formula made from the milk of free-range, grass-fed goats in the Netherlands. This formula is specifically designed to provide complete nutrition for babies aged 6-12 months.
Goat milk is known for its unique composition that makes it easy to digest and gentle on the stomach. HiPP Dutch Goat Milk Baby formula Stage 2 is made using only the highest-quality organic ingredients and is free from preservatives, artificial colors, and genetically modified organisms (GMOs).
This baby formula is enriched with essential vitamins and minerals, including vitamin D, calcium, and iron, which are important for your baby's growth and development. The added Omega-3 and Omega-6 fatty acids support brain and eye development.
The goat milk used in HiPP Dutch Goat Milk Baby formula Stage 2 comes from goats that are raised in a natural environment, free from pesticides and antibiotics. HiPP is committed to sustainable agriculture and animal welfare, ensuring that their products are not only safe for babies but also environmentally friendly.
HiPP Dutch Goat Milk Baby formula Stage 2 is suitable for babies who are sensitive or allergic to cow's milk, and for those who are looking for a natural and organic alternative to traditional baby formula. Always consult with your pediatrician before introducing new foods or formulas to your baby.
With HiPP Dutch Goat Milk Baby formula Stage 2, you can rest assured that your growing baby is getting the best possible nutrition in a natural, organic, and environmentally conscious way.
Ingredients: Goat's milk*, lactose*, vegetable oils* (palm oil*, rapeseed oil*, sunflower oil*), goat's milk powder*, galacto-oligosaccharides from lactose*, calcium carbonate, fish oil1, potassium citrate, vitamin C, sodium citrate, ferrous sulphate, L-tyrosine , L-tryptophan, L-cystine, magnesium carbonate, zinc sulfate, copper sulfate, niacin (nicotinamide), vitamin E, pantothenic acid (calcium D-pantothenate), vitamin A, vitamin B1, vitamin B6, manganese sulfate, folic acid , sodium selenite, vitamin K, potassium iodide, vitamin D, D-biotin, vitamin B12.
* Sourced from organic farming
Feeding Chart:
Age
Water (ml)
# of Scoops
Ready-made
Formula (ml)
Bottles per Day
6+ months
150
5
170
As Required
 
180
6
200
As Required
 
210
7
235
As Required
Please note: The manufacturer may change its packaging style at any moment without notice. Always follow the instructions on your packaging, even if they differ from the above instructions.
Track and Trace

Track and Trace:

Once you place your order, a Track and Trace link will be supplied allowing you to manage and see exactly where you delivery is while it makes its way to your doorstep!
Preparation Instructions

Preparation:

Instructions in English

Follow the instructions precisely when preparing toddler formula. Improper preparation or storage of the prepared bottle over a longer period of time can lead to health problems, e.g. due to the growth of unwanted germs. Prepare formula before every feeding and feed immediately. Do not reuse the remaining prepared formula or leftovers. Clean bottle, teat and ring thoroughly. Close the opened bag tightly after use. Store dry and at room temperature and use within 2 weeks after opening. Do not heat organic baby food in the microwave (risk of scalding).

For a thorough cleaning boil the bottle and ring before using it, from 3 to 5 minutes.
Boil fresh drinking water and cool to approx. 40°-50° C / 104-122° F. Add half of the required water to the bottle.
Fill the measuring spoon and level the formula powder on the spoon. Add the advised amount of formula to the bottle.
Close the bottle and shake thoroughly. Add the remaining water and shake thoroughly again. Cool to drinking temperature of approx. 37° C / 98.6° F. Check temperature, e.g. with thermometer.

Preparation notes

Please follow the preparation instructions exactly. Dosing in the correct quantities will ensure your baby always receives the nutrients he or she needs.
Only use the provided measuring spoon.
Do not change proportions of formula powder except with explicit medical advice. Incorrect preparation and storage may result in damage to health.
Always prepare bottles fresh. Do not re-use leftovers.
Do not heat organic baby food in the microwave (danger of overheating)

Important notes

A mother's milk is the most natural and beneficial nourishment for your baby – including all nutrients and vitamins needed. This is why we recommend breastfeeding. Holle pre cow milk formulas are suitable from birth to 6 months and ideal for bottle feeding or as the supplement to breast milk. Before you decide to use this product, consult your doctor or healthcare professional for advice.

Do not allow your baby to suck on its bottle continuously. Constant contact with liquids containing carbohydrates can lead to tooth decay. Therefore pay attention from the first tooth to adequate dental care. Pay special attention to your baby's dental hygiene once his or her first tooth has come through.
Share
View full details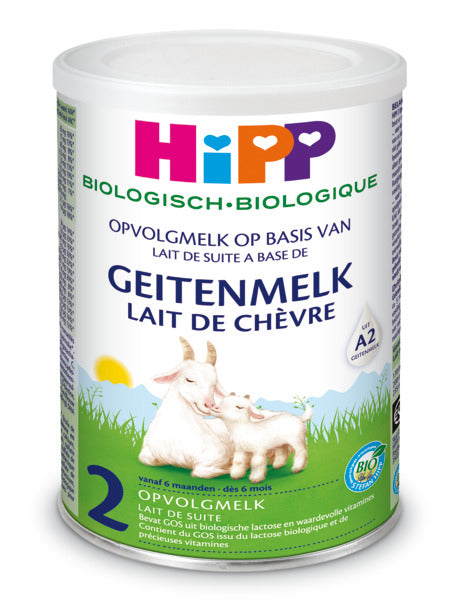 Amazing
This formula has been a lifesaver for us. My son has been battling allergies and eczema and I was so nervous to give him formula. I didn't want to make things worse for him. But this product is great! He's been doing so well and growing like a weed on this. It's been the best option for us since goat milk is the closest to human.
Also, Baby Mercarto far exceeds every other site to order formula! Not only did I receive my order extremely quickly, the customer service is amazing. I couldn't find my son's formula anywhere and Nicole took her time to go through alternative options with me. she provided me with so much information on companies I wasn't familiar with! It made a stressful situation so much easier and I can't thank her and this company enough!